It goes without saying that this past year has been different than any other year. July 1 was the start of a new fiscal year for our church. We are grateful that God has continued to bless us and that ministry is still happening. We were able to offer KREW (KidStep's Really Exciting Week) for 130 kids, and our Middle and High School students went to Camp Orchard Hill for a week of serving and fun. We have heard countless stories of how missionaries are seeing God make a difference in their neighborhoods.
But we also acknowledge that overall giving has been down, and we are ending the previous fiscal year with expenses higher than giving. Staff managed expenses very well and kept them significantly below the approved budget. To pay our bills, we had to dip into savings. We will not be able to do that again this fiscal year. So, we are challenging everyone to give an extra 1% of their annual income and join us in making that 1% Step.
---
How do I participate?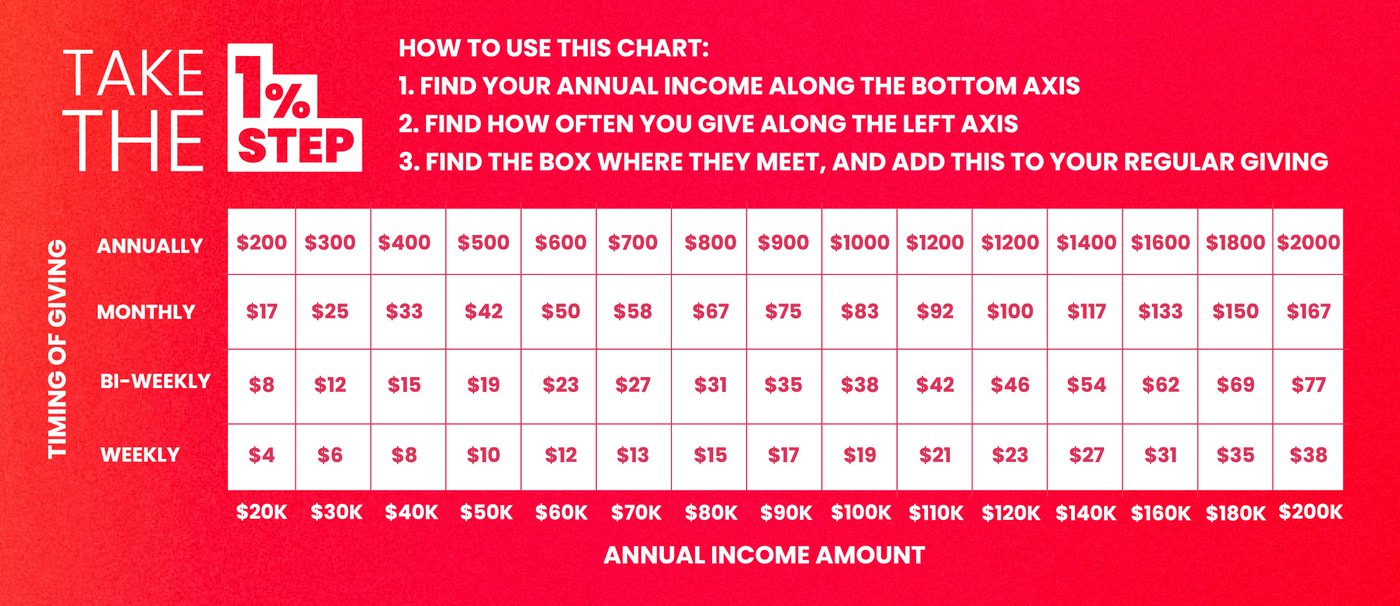 Giving at Hershey Free is easy and secure. You can give by cash, check, or electronically. You can set up a recurring gift to our ministry fund. The Ministry Fund supports the spiritual and physical needs of the church including students, children, special needs, missions, local outreach, spiritual formation, and others.
The challenge is to give 1% more of your annual income. Even if you are not currently giving, you could start by giving 1%. If you would like instructions on how to change your recurring gift, step by step directions are provided.
---
Why does this matter?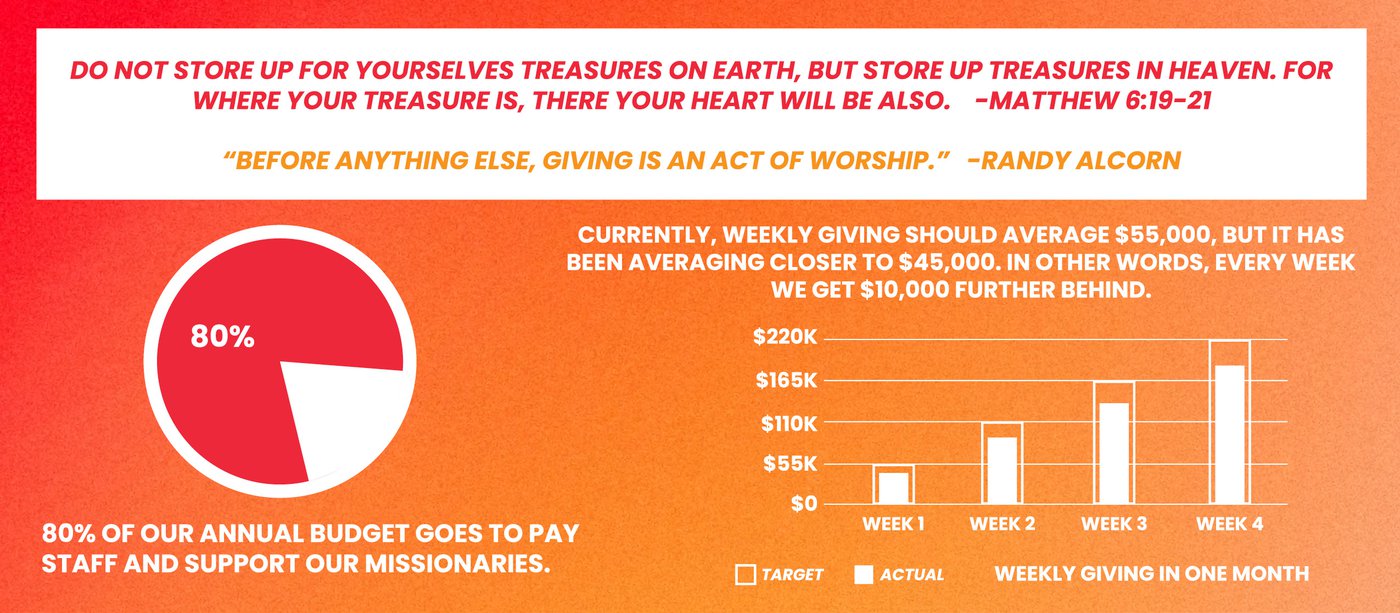 according to scripture
You may be wondering, why should I support the church with my money? I mean, you work hard for that money! The basic truth is, ministry requires money. Worshipping together requires a building or an online platform; organizing groups for discipleship requires paid staff to initiate; missions work requires boots on the ground; local outreach requires resources. Whenever you see someone baptized at Hershey Free, whenever you see someone commissioned from Hershey Free, funding was needed in that life change process. And it's the responsibility of the members of a local church to either FUND that work or CHANGE the kind of ministry that happens.
Why are you asking for a percentage of my income? And how would I figure that out? Well, first, the Bible shows us a pattern of percentage giving. God followers, before Jesus was born, were accustomed to giving a tenth, or 10%, of their earnings to his work. Now, we don't believe that anyone has to give exactly 10% of their income to the church, but we notice that the earliest followers of Jesus kept up this habit of percentage giving. 1 Corinthians 16:2 reads this way: "On the first day of every week, each one of you should set aside a sum of money in keeping with your income." That is to say, it's healthy for our own discipleship to give regularly and generously based on a portion of our earnings.
Take to heart what the apostle Paul tells us in 2 Corinthians 8: "Each of you should give what you have decided in your heart to give, not reluctantly or under compulsion, for God loves a cheerful giver. And God is able to bless you abundantly, so that in all things at all times, having all that you need, you will abound in every good work."
to the church
80% of our annual budget goes to pay staff and support our missionaries. Your giving allows staff and missionaries to continue to lead and build ministries. Currently, weekly giving should average $55,000, but it has been averaging closer to $45,000. In other words, every week we get $10,000 further behind.
We each play a part in the ministry at Hershey Free. When you Say Yes to serving, when you join us at one of our reconnecting events, and when you take the 1% Step, you are joining us on the journey. You are a part of all the individual stories of life change that make up the Hershey Free Church family.
---
I want to participate but I need some help with my personal finances.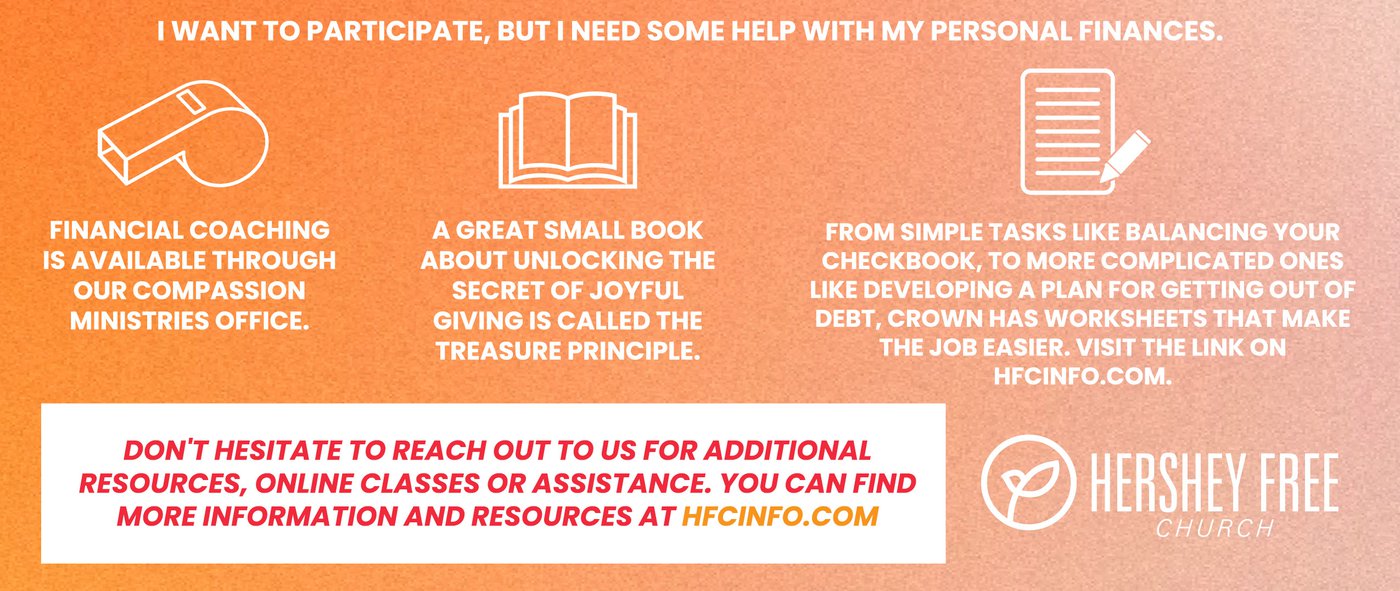 Many things can affect your personal finances and we want to support you and be a resource for you.
Financial coaching is available through our compassion ministries office. These individuals are trained and ready to talk through a plan to help you be financially secure.
A great small book about unlocking the secret of joyful giving is called The Treasure Principle. If you are interested in a copy let us know and we'll mail you one.
From simple tasks like balancing your checkbook, to more complicated ones like developing a plan for getting out of debt, Crown has worksheets that make the job easier. Use these PDF forms with fillable fields that you can download and save to your computer.
Follow this guide to create a budget that can lead to financial freedom and bring you peace.
Don't hesitate to reach out to us for additional resources, online classes, or assistance.