Live/Love/Lead
For the past five years, Hershey Free Church has been engaged in the mission of helping the people in our church family Live with Jesus, Love like Jesus, and Lead Others to do the Same. This mission is deeply rooted in the heart of God, evidenced by Jesus' words in Matthew 28 to make disciples of all people. Live, Love, and Lead is woven throughout all of our activities, plans, and decisions. We are not deviating from our mission to Live, Love, and Lead. In fact, in February, the elders and staff spent a day together to prayerfully seek the Lord's direction for a specific vision and next steps to help us carry out our mission. It was clear that the Spirit of God was leading a room of varying ages and genders, different jobs, and personalities in the same direction. Since then, we have continued to pray and plan and are now taking a step of faith as we share this vision with you.
---
2025 Vision
Throughout the next five years, it is vital for us to focus on young adults. In saying this, we are not moving away from being a multi-generational church. We want to leverage our multi-generational reality. We want to build bridges with future generations. We live in a time where it's very easy to walk away from church, and it can be even harder to engage church. If we are truly going to be a community of multiple generations coming together, we must ensure that young adults are invited, equipped, and empowered to be a part of our gospel mission.
In five years, we envision a future where people can ask hard questions about life, faith, meaning, and purpose and encounter the transforming work of the gospel, in community with others. We anticipate seeing relationships built across generations so we can learn from each other. We see a body of people equipped to discover how God has wired them to serve. We believe our five-year vision culminates with many young adults joining us as we Live with Jesus, Love like Jesus, and continue to Lead Others to do the Same.
2025 VISION
"Leveraging our multi-generational congregation, we will build bridges for the transformation of young adults in our church and community so that together we can engage the gospel and be equipped and empowered to live as part of God's mission, both locally and globally."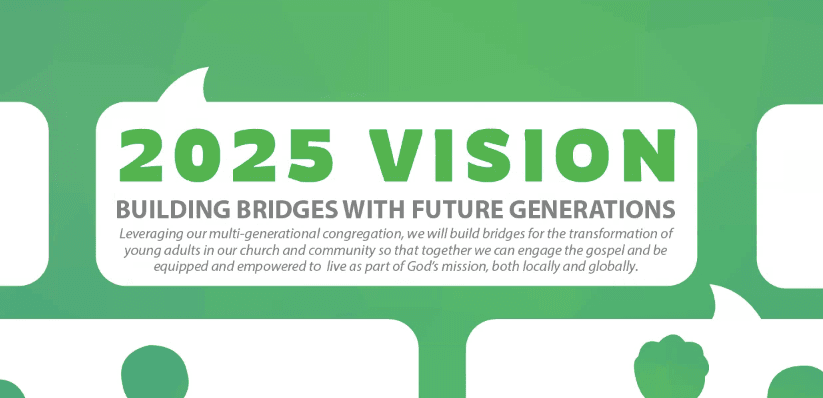 ---
Bridge Building
We invite you to join us on this Bridge Building adventure. Bridge Building is a faith-stretching next step in a relationship. It could be a simple conversation that you might not have had otherwise, praying for a neighbor that you want to begin to get to know, or having a Zoom coffee date. It's taking an intentional step outside your comfort zone.
If you want to join our Bridge Building team, we are asking you to fill out the Commitment Card below. This is an opportunity to stay motivated by joining others with the same vision, to have accountability as we participate in this year-long goal, and to hear stories of other people taking bridge-building next steps. After filling out a Commitment Card, you will receive a Commitment Packet in the mail with information to help you take next steps.
---
---
Frequently Asked Questions
What does "Bridge Building" mean to me?
Bridge Building is one way to embody Christ, demonstrating how he broke down barriers for the sake of the gospel. We are a culture that is used to controlling our situations and environments, not naturally taking vulnerable risks. Be sensitive to the nudge from the Holy Spirit. If you feel prompted to ask one more question, then do it! Bridge Building isn't wholly dependent on you, it's a process. You are not building the entire bridge, but you can mix some mortar or place another brick. While we want you to be fully involved in building bridges, we don't want you to take too big a first step. Don't try to do it all at once. Our goal is to build relationships by getting into the habit of taking next steps.
Pray each morning as you begin the day, ask for courage to seize opportunities to be a Bridge Builder.
Why are we doing this?
Our goal is to create paths for conversation, for sharing Christ's love, and for walking with others during this season of divisiveness. In times of crisis, the wise build bridges while the foolish build barriers. Our friends, colleagues, neighbors, and family members need to know that we are for them. This is an opportunity to live out the fruit of the Spirit. Be kind, be gracious with people, be a listener. This is a time to stretch our faith muscles. The gospel needs to be shared more than ever as we persevere in relationships that may be difficult.
2020 has become a barrier-building year. We choose to be Bridge-Builders!
What are barriers?
Each of us could list a dozen things without much effort. Here are a few common themes:
Fear. Fear of talking with someone who doesn't think like we think or look like we look or believe as we believe. Fear of rejection.
Stress. If nothing else, COVID, has produced its own stressors. We don't have the capacity to think differently, to consider new relationships, to add one more thing to the proverbial duties we feel compelled to accomplish.
Time. As our calendars begin to fill back in, the time crunch becomes real again. How do we carve out time to build a relationship?
Instant Gratification. This isn't a checklist, and people aren't projects. You may not be the person who leads someone to Christ, but you can be a part of their journey.
Meeting Others. I don't know many non-Christians. How do I meet people outside my Christian circles?
Trust God to give you courage and faith to acknowledge our barriers and break through them.
Why does the five-year vision focus on young adults?
We live in a post-Christian culture. Young people are leaving the church or have never had the opportunity to have a positive experience with a follower of Christ. They don't feel like the church is a safe place for them. It's never been so easy to leave the church and never so hard to engage. Young adults are setting the tone and direction of culture from entertainment to business to politics to social habits. We want to help young adults have a gospel influence on our culture and around the globe.
Why young adults? Because we want to partner with them and change the world.
How can all generations get involved?
We need to engage younger people, to listen and learn about their thoughts, ideas, and culture. Sometimes that means just listening by being a trusted sounding board. At times we may have built the relationship and can coach or mentor. We can carefully choose our words to be more affirming and less critical about young adults and while around young adults. Some of us have "things" that young adults have not yet acquired: larger homes where young adults can gather and hangout. Offer your mountain cabin or beach house for retreats. Use your trailer to transport kayaks (maybe even loaning the kayaks!). Be generous with your resources. Read a book, listen to a song, watch a movie ... be willing to become a bit uncomfortable for the sake of a meaningful conversation. Talk to your children and your grandchildren. What weighs heavy on their hearts? What brings them joy and fulfillment?
Above all, pray!