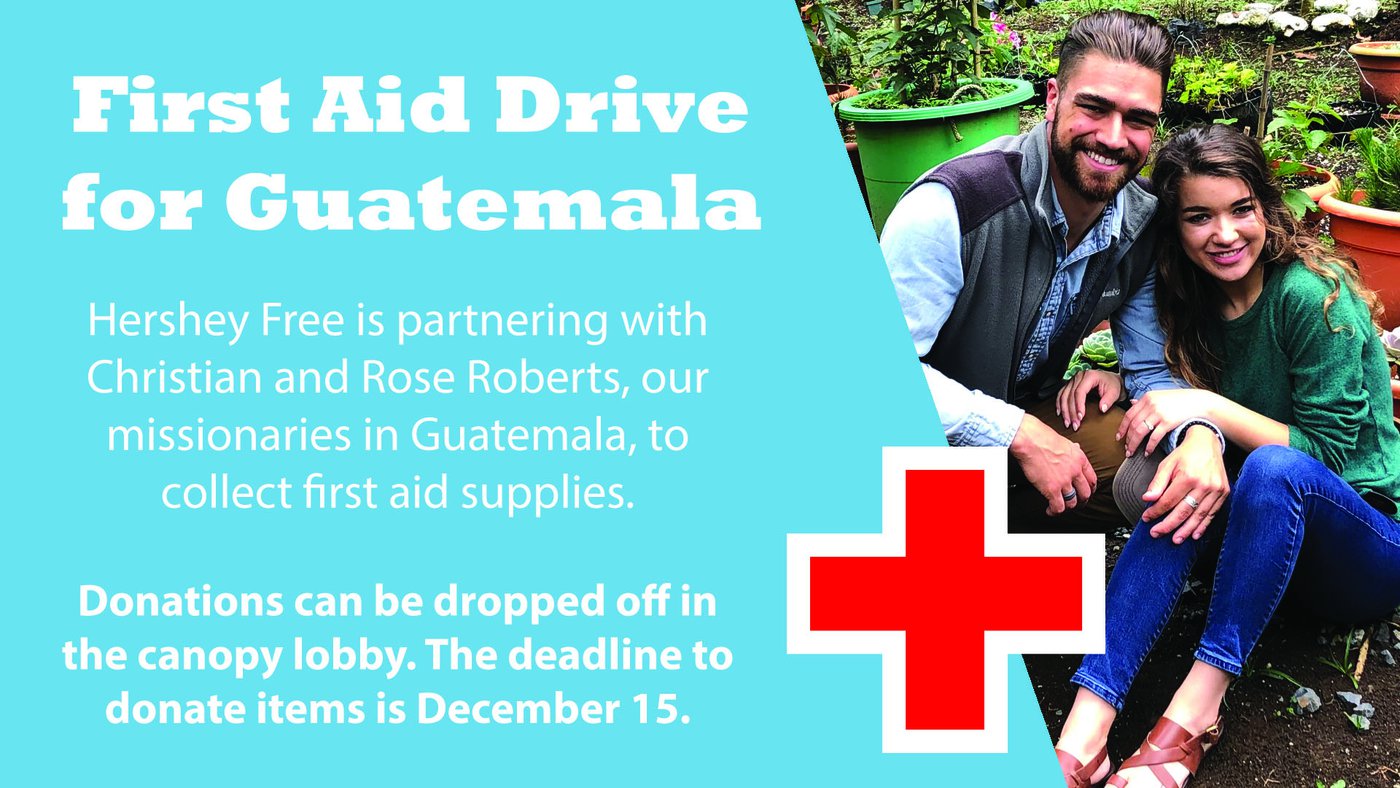 First Aid Drive for Guatemala
Families in Guatemala lack the basic first aid supplies to treat common injuries. Hershey Free is partnering with Christian and Rose Roberts, our missionaries in Guatemala, to collect first aid supplies. Our goal is collect enough supplies to assemble and distribute 250 home first aid kits to families in the surrounding villages of Alta Verapaz, Guatemala. Donations can be dropped off in the canopy lobby. The deadline to donate items is December 15.
The list of supplies needed:
Band Aids (assorted sizes)
Cloth Tape Roll
Aspirin Packets
Antiseptic Wipes
Antibiotic Ointment Packet
3x3in. Sterile Gauze pad
3in. Gauze Roll
Hydrocortisone Ointment Packet
Digital Oral Thermometer
Tweezers
Non-Latex Gloves (sizes Sm. & Med.)
Instant Cold Compress
---
Cross-Cultural Servants (Missionaries)
"Beyond the Walls" is the name of our local and global ministry. It exists to declare and demonstrate the good news about Jesus Christ through engaging the Hershey Free Church community in the mission of Christ locally and globally. We want to help foster in people a passion for Jesus Christ that moves them to declare and demonstrate the gospel to their neighbors, the region, and the nations, as reflected in Acts 1:8 (NIV): "But you will receive power when the Holy Spirit comes on you; and you will be my witnesses in Jerusalem, and in all Judea and Samaria, and to the ends of the earth." We participate in the Great Commission by sending out global, cross-cultural servants (missionaries) that they may represent Christ, share the good news, and make disciples in their contexts.
---
Global Impact Fund for Transformation
The Hershey Free Global Impact Fund for Transformation (GIFT) was established to help fund specific and strategic ministry initiatives in cross-cultural contexts around the world. We specifically seek to use these funds to help the global workers with whom we partner. The funds are intended to help with one-time capital projects for our cross-cultural worker families, theological education for nationals, and responding rapidly to opportunities that arise. In 2020, $68,000 was distributed to our missionary partners around the world to share the gospel! Our gifts were shared with individuals and organizations which serve across the globe. Most directly the gifts impacted countries across South America, Africa, Asia, and Eastern Europe.
Agricultural Training for Bi-vocational Ministry Leaders (Moldova)
An UDG ministry funded by GIFT is an agricultural training program for ministry students. Most pastors ministering in Moldova or in the majority Muslim countries of Central Asia that many UDG students come from must be bi-vocational in order to sustain themselves. That is, along with pastoring a church or leading a ministry, most work another full-time job. The goal is to equip students to provide for their families and use their farming successes to share the gospel in their communities. UDG now can offer agricultural education in both the classroom and on the farm. Students will receive training in greenhouse vegetables and flowers, dairy farming, raising beef animals, general livestock and orchards.
---
Haiti
Our partnership with Haiti began in 2012. Dave Hyatt, Pastor for Local and Global Outreach, met with several key leaders in Haiti to discover how Hershey Free Church could best come alongside them and encourage ministry led by Haitians. Our primary partnership relationship has been with STEP Seminary, which is located in Port-au-Prince and whose vision is to prepare leaders who will transform Haitian society. Great friendships have developed over the years with many in Haiti.
Our partnership with Haiti is still going strong, and our desire is to build on the relationships that are being formed and to continue to support STEP Seminary.
---
burkina faso
As our work in Haiti continues, a natural overflow of that ministry became apparent to church leadership as doors were opened in Burkina Faso, a french-speaking nation in West Africa. Burkina Faso is a country of close to 20 million, with the majority of the population being Muslim (53%). It is also one of the most financially impoverished countries in the world.
We have chosen to partner with Global Hope Network International and adopt a village ("KB") in Burkina Faso. The long-term goal is to see gospel transformation as we build a partnership with this village based on mutual trust and shared respect. We will work with KB in five key areas: water, food, wellness, education, and income. While these physical improvements are happening, we are also working with a local pastor and church planter who is sharing Christ with the villagers as he and his wife live and work among them. The vision can then spread to surrounding West Africa villages as KB becomes a training hub for Transformational Community Development.
---
How Can I Get Involved?
PRAY
Consider being a prayer partner for a Haiti or Burkina Faso team. Receive regular prayer updates and commit to praying for teams that go to these countries.