Living with Jesus is Hershey Free Church's way to describe how we connect with God in a fuller and richer way. Practicing spiritual rhythms in a consistent manner nourishes the soul and creates the opportunity for transformation. Below are suggestions that can be beneficial in helping you take next steps on your spiritual journey.
---
November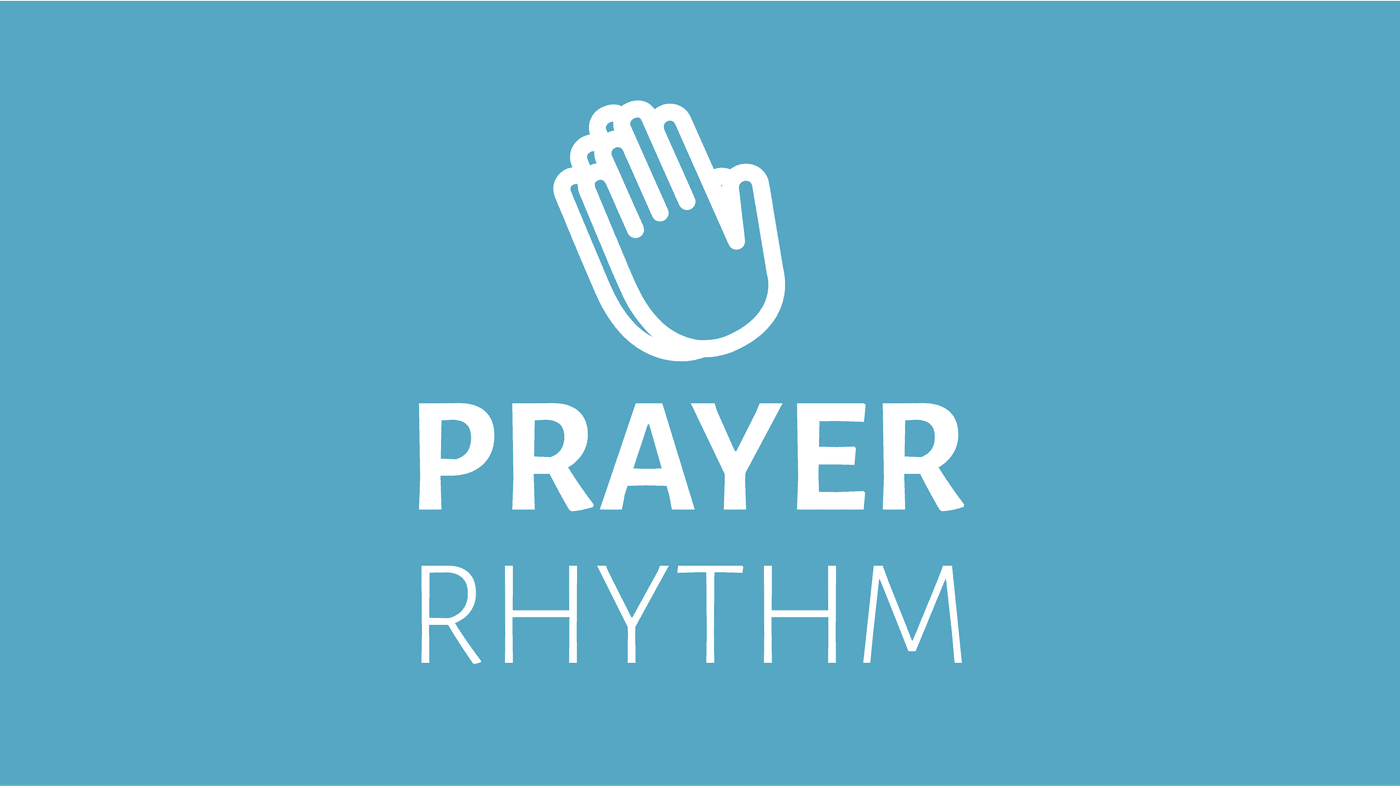 Since prayer is talking with God, why don't we pray more? Why don't we, the people of God, enjoy prayer more? People want to pray, but it may be that the reason we don't feel like praying is that when we do pray, we tend to say the same old things and we feel discouraged or even bored. This month we want to focus on the rhythm of praying scripture. As we pray the word of God for people, we release the work of the Spirit in their lives.
Now, more than ever, we need a fresh work of the Spirit to strengthen and renew our souls. This month let's unite as the body of Christ, and pray these scriptures together for one another. Pray earnestly the truth of these verses for the renewal of our families, our church, our community, and our world.
November 1: Philippians 4:12-13
I know what it is to be in need, and I know what it is to have plenty. I have learned the secret of being content in any and every situation, whether well fed or hungry, whether living in plenty or in want. I can do all this through him who gives me strength.
November 8: Psalm 46:1, 10
God is our refuge and strength, an ever-present help in trouble. He says, "Be still, and know that I am God; I will be exalted among the nations, I will be exalted in the earth."
November 15: 2 Thessalonians 1:3-4
We ought always to thank God for you, brothers and sisters, and rightly so, because your faith is growing more and more, and the love all of you have for one another is increasing. Therefore, among God's churches we boast about your perseverance and faith in all the persecutions and trials you are enduring.
November 22: Psalm 100:4-5
Enter his gates with thanksgiving and his courts with praise; give thanks to him and praise his name. For the Lord is good and his love endures forever; his faithfulness continues through all generations.
November 29: Colossians 1:9-11
For this reason, since the day we heard about you, we have not stopped praying for you. We continually ask God to fill you with the knowledge of his will through all the wisdom and understanding that the Spirit gives, so that you may live a life worthy of the Lord and please him in every way: bearing fruit in every good work, growing in the knowledge of God, being strengthened with all power according to his glorious might so that you may have great endurance and patience.
October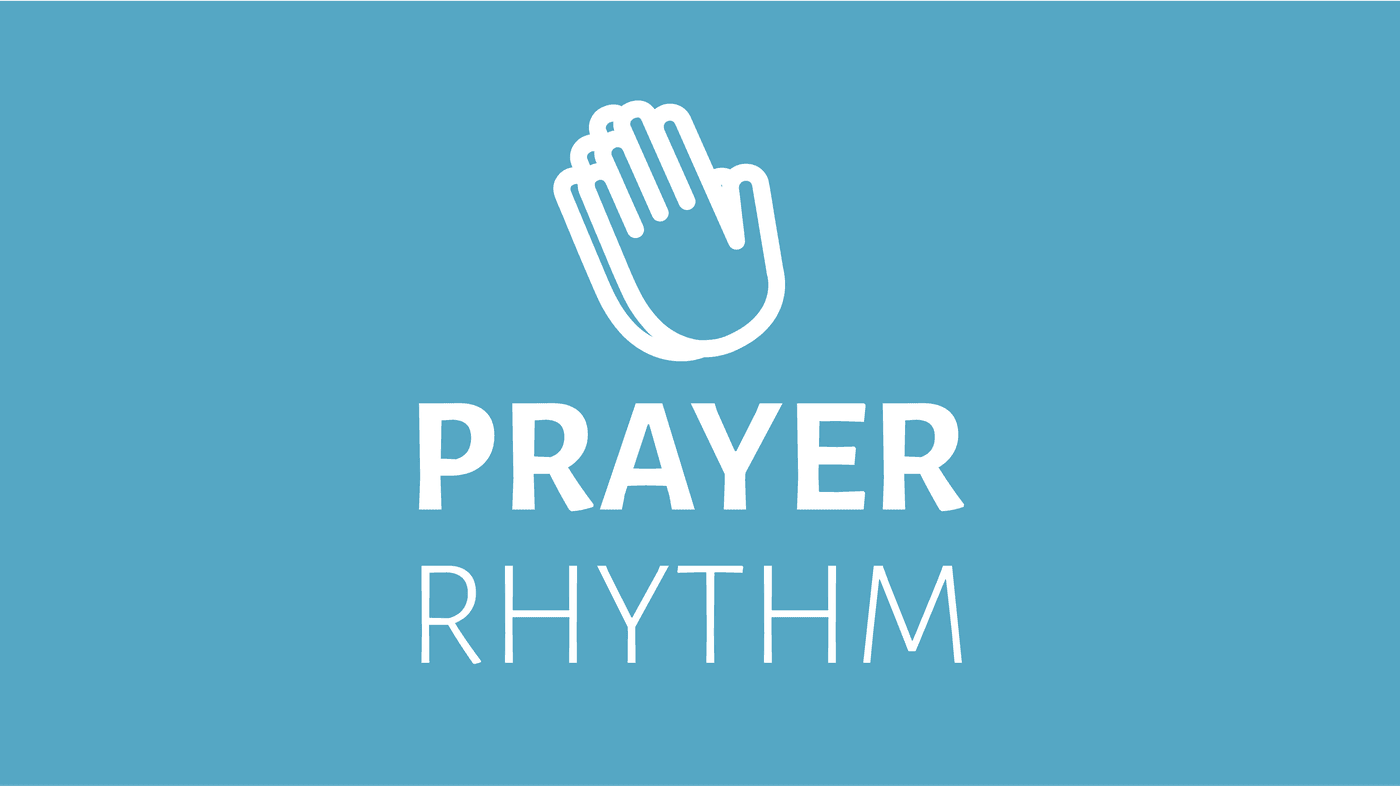 One of the most essential rhythms in a believer's life is the attitude and action of prayer. Prayer is conversing and communicating with God, and it involves listening and speaking. As believers, we know the importance of prayer, but we often fail to follow through. Each week this month, we will engage prayer in a different way.
Practicing Prayer: engaging in rhythms of prayer
Pray with an attitude of expectancy that God is hearing and answering our prayers! Be intentional and set aside time to spend with Jesus.
Week One: the Lord's Prayer
Take time this week to focus on the Lord's prayer. When the disciples asked Jesus to teach them to pray, he had a simple, but profound response: he prayed. Start and end your day with the Lord's prayer. As you pray, ask the Spirit to guide you into a deeper understanding of the words and phrases. Make this a sacred time where you make the words of the prayer a reality in your life. Pray the words slowly and deliberately, remembering that Jesus prayed this prayer and that every word and phrase is rich with meaning.
Week Two: Listening Prayer
Since prayer is communicating with God, take time this week to listen to God. Good communication is a two-way street, and listening is just as important as talking. Developing habits of listening provides a solid foundation for talking to God. Listening prayer allows God to set the agenda for prayer and responds to the word that is given. Listening prayer is a dialog that requires listening to God's thoughts and not your own. Focus on 1 Samuel 3:9-10, "Speak, for your servant is listening." Let these words help you develop the discipline of listening prayer. Don't worry about distractions; acknowledge them without self-judgment and humbly return to giving listening attention to Jesus. Persevering in listening prayer is an act of trust that God is present.
Week Three: Prayers of Praise
Too often prayer is viewed as asking God to respond to a specific need or request. Isaiah 61:3 instructs us to put on the "garment of praise." This week take time to focus your prayer time on praising God, thanking him for his goodness, his blessings, and his presence. Look for opportunities each day to glorify him by praising him for who he is and what he is doing in your life. It may be as simple as thanking him for the food you have to eat, or the job you have (even if it's not your dream job!) It's so easy for us to find things about which to complain, the habit of intentionally looking for reasons to praise God can change our perspective and give us a different outlook.
Week Four: Petitioning Prayer
Prayers of petition invite God into our world with its cares and concerns. It is a way of bringing our families, friends, community, and the world into the throne room of God. When we petition God, it is not manipulating him to do our will, rather it is the practice of petitioning him in a manner to join him in the accomplishment of his will. Prayers of petition also remind us that God cares about us and the world that we live in. This week, focus on bringing your needs, concerns, and struggles into God's presence and lay them at his feet. Take time to specifically pray for the upcoming election and for the peace of our nation.
August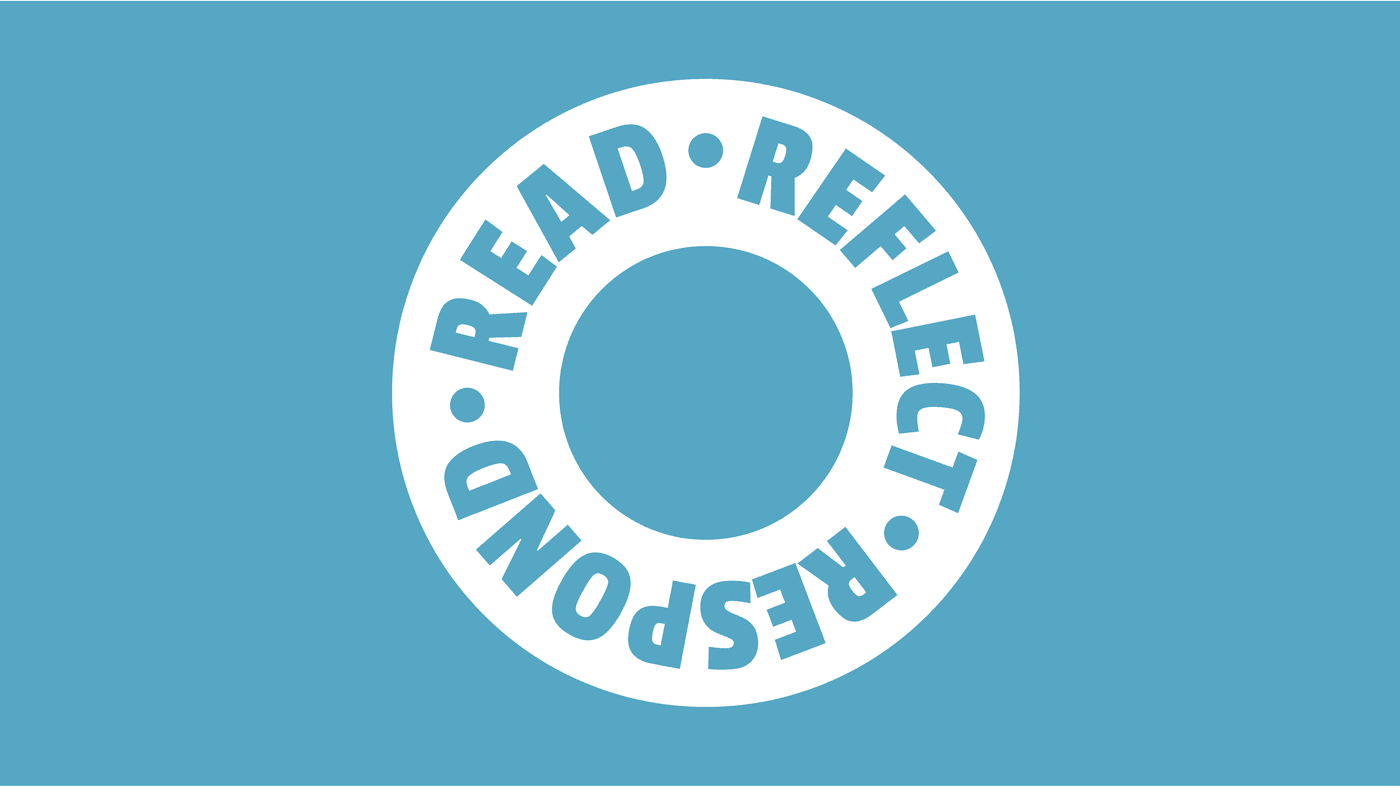 D.L. Moody stated that "the Bible was not given for our information but for our transformation." Scripture itself states, "For the word of God is alive and powerful. It is sharper than the sharpest two-edged sword, cutting between soul and spirit, between joint and marrow. It exposes our innermost thoughts and desires." (Hebrews 4:12 NLT)
The rhythm for this month is designed to help you focus on scripture in a manner that moves beyond information in to transformation where you give the Spirit freedom to reveal thoughts, emotions, and desires. To practice this rhythm, choose a short passage or a few verses then:
READ the passage or verses slowly. Let the words penetrate your mind and your heart.
REFLECT on the verses. Give the Spirit freedom to show you how they apply to you that day.
RESPOND with obedience. Let the word of God guide your thoughts, attitudes, and actions as you go about your day.
As you intentionally engage in this rhythm, the word of God will become richer, deeper, and more personal. Practicing this rhythm is not to master the text but to allow the text to master you; you are reading in this manner for depth, not breadth. May this rhythm draw you closer to the God of the Word, deepening your intimacy with him and your obedience to him.
JULY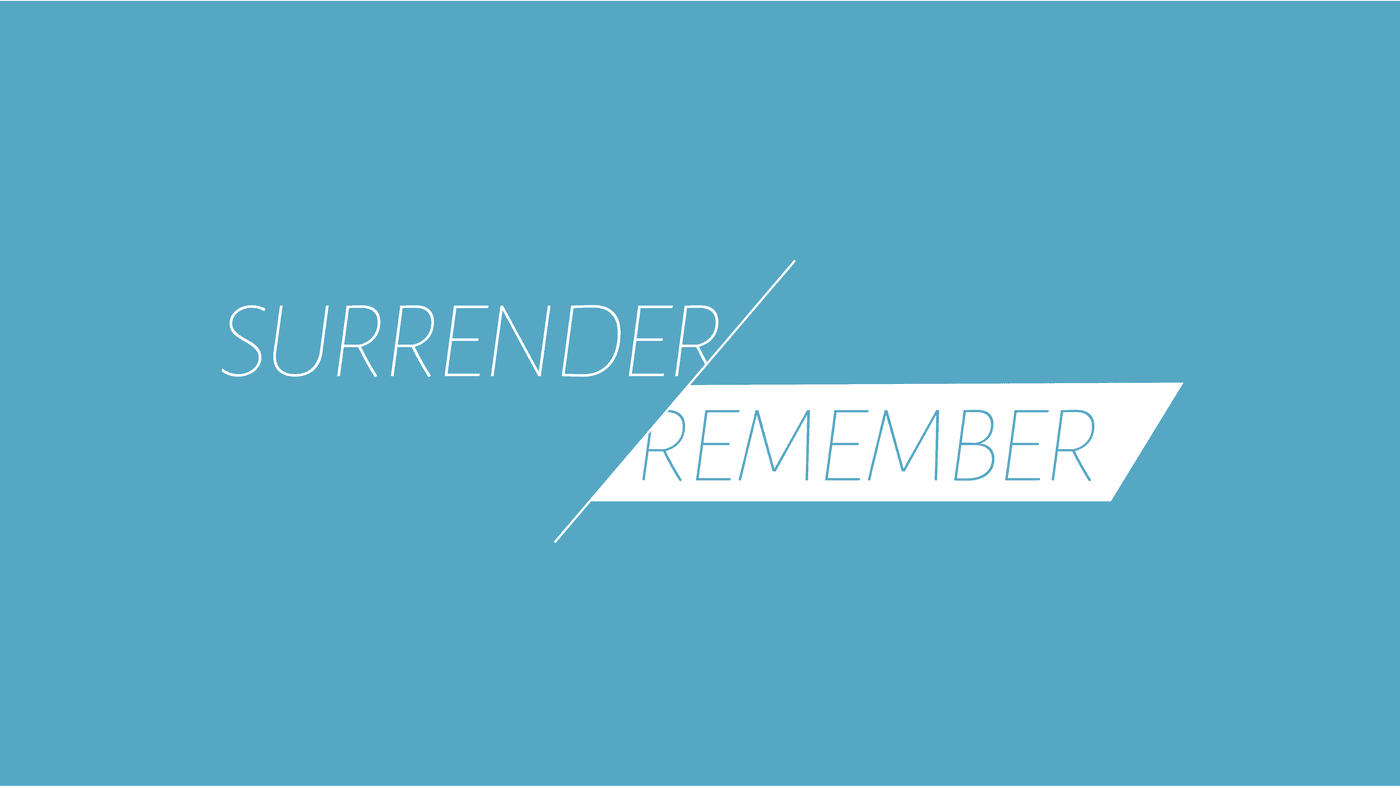 As everything seems to be changing and the future is still unclear, it's important to keep our focus on the unchanging truth of Christ. These challenging days can be tiring and lead to discouragement. It's so important that we create the space in our daily lives for the Spirit to speak into our souls. How can we even more intentionally lean into Christ and allow him to direct our thoughts and our emotions.
Our mission as a church is to live with Jesus, love like Jesus, and lead others to do the same. One of the ways we can live with Jesus is to develop patterns that keep us connected with him. We encourage you to practice a daily rhythm of Surrender and Remember. It's not hard and only takes a few minutes each day.
Surrender - Each morning before your feet hit the floor, stop and surrender your day to the Lord. Give your thoughts, attitudes, actions, and interactions to Jesus before they even happen and ask him to guide and make you aware of how you can best love others. Pray the words of a verse of scripture like Romans 12:1-2, which help us to see our lives as an act of worship.
Remember - Each evening before you fall asleep, take a few minutes and think about your actions and attitudes from the day. Give Jesus thanks for the blessings you received, and ask him to show you where you could have loved others differently. Fall asleep committing yourself to him, asking for his strength for the next day. Remember the words of Philippians 1:6, which tells us that we can be confident that God will complete the work he has started in our lives.
As a church family, let's practice this rhythm together for the rest of July and wait expectantly to see how God will work in our lives as his followers. Parents, model and help your children live this rhythm as well. Hershey Free, let's surrender ourselves to God and remember all that he is doing in our lives to transform us to be like Jesus!
---
Connect with God
Take the Connect with God inventory which will help you discover your spiritual pathway to a deeper relationship.
---